The NDC is still scrambling for reasons to stop the EC from organising the new register, the latest to join the debate is an Aide to former President Mahama. In a facebook post, Edudzi Tamakloe explains 10 possibilities that may lead to acquiring the deadly disease hence the need to stop the entire exercise.
Below is the post unedited
———————————————
When Registering for a New EC VOTERS REGISTER:
Below are ten (10) possibilities that may occur; yet Akufo Addo says it is SENSIBLE.
*JUDGE FOR YOURSELVES*
1. You crowd in close proximity with others…
2. You queu in that close proximity for long time…
3. You breath and when ANYBODY coughs, you panic but breath (WITHOUT a Nose Mask)the air…
4. You sweat and clean your face…
5. You place your fingers on the BVR device where all previous persons have placed potentially infected fingers…
6. The EC officials who have been exposed to EVERYBODY without protection interact with you while you breath facing each other…
7. You collect the New VOTERS ID Card from the EC staff who is not wearing gloves while handling the card…
8.You leave the CORONAVIRUS REGISTRATION Centre manned by the EC to your home, office, school, church, mosque, market etc to spread the infection…
9. You start seeing symptoms of CORONAVIRUS after incubation period…
10. You go to the health facility where you are confirmed positive, healthcare workers run away instead of quarantining you…
For now we don't know if there are cases of CORONAVIRUS in Ghana, as there is not yet a "confirmed case".
All you need is an infected person in one or more (all) REGISTRATION Centre(s) and DISASTER…
*Is it worth it?*
The current REGISTER is CREDIBLE according to the EC, and that the only want to make it more credible (from 99.4% to 100% which is an impossibility).
Hajj has been cancelled by Saudi Arabia, elswhere schools, churches, mosques, airports, lorry & train stations have been closed down, football and other major activities postponed with the possibility of the Olympic games being cancelled…
*Ghana is not ready for the CORONAVIRUS, Akufo Addo still has NO PLAN yet wants to endanger Ghanaians in order to get a Voters REGISTER of his choice for the election on December December 7th?*
Say NO!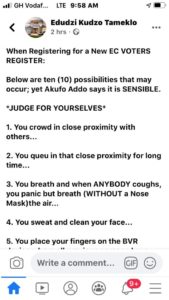 ———————————————
About Covid-19
The novel coronavirus is caused by a member of the coronavirus family that has never been encountered before.
Like other coronaviruses, it comes from animals and many of the first cases were of people who either worked or frequently shopped in the Huanan seafood wholesale market in the centre of Wuhan.
The novel coronavirus is airborne and symptoms begin to manifest after 14 days.
A person could transmit the disease before symptoms begin to manifest.
Precautions recommended include regular hand washing, using a hand sanitizer, using a nose mask and avoiding contact or proximity with infected persons.
The fatality rate of the virus has not been officially determined but it is thought to be around 2 percent.
A recent study published in a medical journal revealed that the average age of a coronavirus patient is 55 years old.
Also, 80 percent of those who have died from the disease were aged 60 or above.
A majority of the fatalities had preexisting health conditions.